Music therapy is an evidence-based allied health profession that supports people to improve their health and well-being.
It can help people of all ages to manage their physical & mental health and enhance their quality of life as they understand it to be. This is made individually to each person's needs and goals by a Registered Music Therapist (RMT) who is registered with the Australian Music Therapy Association (AMTA).
Music therapy can help in many ways:
Mentally
Reducing anxiety & stress
Regulating & validating moods
Regulating energy levels
Increasing motivation
Managing anger, frustration & other difficult emotions
Creative self-expression & performing individual identity
Emphasising your values, interests & strengths
Connecting socially with others
Building self-esteem & confidence
Learning & Communicating
Developing verbal & non-verbal communication skills
Increasing social communication skills & interaction.
Increasing independence & creating new and positive ways of approaching everyday circumstances.
Developing core executive functions:
self-awareness
inhibition
non-verbal and verbal working memory
emotional self-regulation
self-motivation
planning and problem-solving
Physically
Improving gross motor skills (or the larger movements you make with your arms legs, feet, or entire body)
Improving fine motor skills (or the smaller movements you make using your wrists, hands, fingers, feet, and toes)
Helping regulate heart rate, breathing rate and blood pressure
Improving sleep
Support those experiencing chronic pain by increasing the body's production of natural painkillers
Support faster recovery from medical procedures.
Music therapy can include many different activities, all of which are flexible & adaptable to suit everyone.
Some things I offer include (but are not limited to):
Live music with singing, guitar & ukulele
Using recorded music for relaxation, song-sharing, movement or an opportunity to perform in a safe environment
Making music together by improvising
Using or writing lyrics and original songs with the help of music technology e.g. recording, beat-making & production
Discovering ways that music can be helpful outside sessions together e.g. making individual playlists or learning new musical skills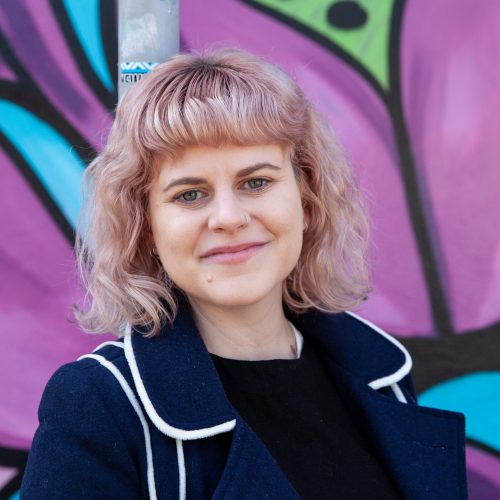 About Gabbi
Gabbi is a Registered Music Therapist (RMT) with the Australian Music Therapy Association (AMTA). She was born and lives in Perth (Boorloo/Whadjuk Noongar Boodja) Western Australia.
Music has always been a part of her life but in very different ways. In the year after she finished high school, she became interested in writing music and went on to study a Bachelor of Music in Composition and Music Technology (Hon.) at WAAPA. This shaped the way she views and creates music, both in making and performing it.
This led to achieving a Master of Music Therapy where she learned to think about music in a completely different way. Music is a special way to connect with and support others, something she has always wanted to be able to share with as many people as possible.
Her experience has shown the benefit of music therapy for people of all ages and backgrounds:
Mothers and their babies attend a community group music workshop to learn ways to play and establish routines in their day-to-day lives.
A resident in aged care with Parkinson's disease participating in a weekly listening session of favourite music to curb depression & social isolation.
Inpatient in mental health recovery singing & performing favourite songs for emotional expression & regulation, pleasure and connecting with meaningful supports.
Children in primary school with complex trauma embrace alternative forms of self-expression and build relationships through music.
Gabbi also runs her private practice and offers mobile music therapy services throughout Perth.
Aims:
Gabbi's approach is all about supporting the overall health and well-being of the community, through music, in whatever capacity possible. She is a firm believer that everyone can enjoy, and benefit from, being musical.
Participating in musical activities isn't just for those who have had lessons or have "talent," it should be something that everyone can access in a way that suit them best.
There are so many ways to be musical and so many ways that this can help us to explore and express our genuine selves and can be a resource to those accessing services at COPE in-clinic or out in the community. This can occur on an individual or group basis depending on the needs and goals of the participant/s.
We are here to COPE with you